Father Michael Carroll, describes how the  Eastern Province was well represented with the Vincentian Family in Poland
July 27, 2016
Dear Confreres and friends of the Eastern Province,
May Christ's Peace be with you always!

I would like to share with you the wonderful event that our young adults from the Eastern Province are taking part in.  On Wednesday evening, July 20th, 17 young adults joined the three men at Miraculous Medal House for an overnight stay in preparation for an Orientation Program to be held on Thursday at St. John's University.
By 10:30 a.m. on Thursday all 30 young adults joined Greg  Semeniuk and Astor Rodriguez at St Thomas More Church.  The purpose of the Orientation Program was to set the tone for their Pilgrim Journey to the Vincentian Youth Gathering and then to World Youth Day 2016.  It also provided an opportunity to bond as a Vincentian Group, to share individual and group expectations, and to recognize the gifts they bring carrying the Vincentian charism from the Eastern Province.
The day went quickly as the group shared their hopes and dreams, learned about one another, and what they will be experiencing in both events.  The Campus Ministers who were going from Niagara and St. John's facilitated the day.  Astor shared his past experience and then prepared the group for their part in the Celebration with special songs and dance.  Greg Semeniuk prepared the group for their visit to Auschwitz. He set the visit in its historical context and shared his own family history of coming from Poland to the United States.
The day was concluded with the celebration of the Eucharist asking the assistance of God to keep them safe and open to the many graces that they may encounter with one another in the Vincentian Family, and as participants of World Youth Day. They are very conscious and grateful for the tremendous privilege they have been given to represent their parishes and universities in the days ahead.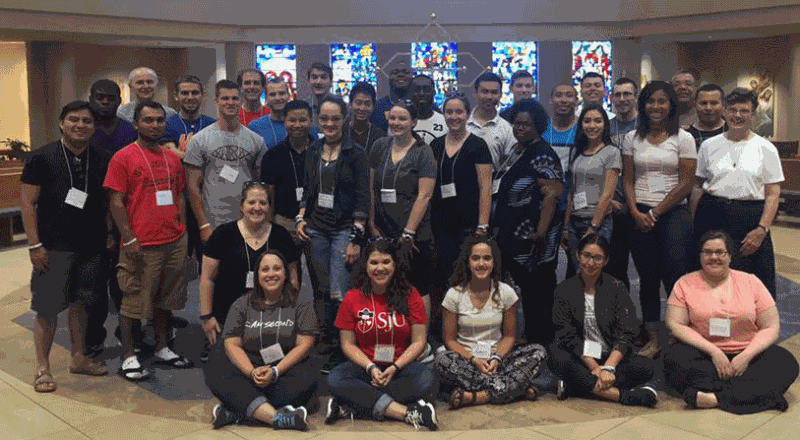 The young men and women from our Vincentian parishes and universities going to the World Youth Day in Poland – 2016.
The group arrived safely on Friday morning and a recent e-mail from Luis Romero stated, "thank God everything is ok, and we are all enjoying our time with our Vincentian brothers and sisters from all around the world. "
On Saturday, Joe Fitzgerald joined our group along with four young adults from St Vincent de Paul Parish in Soloy.
They ended the  Vincentian Youth Gathering yesterday and are now part of the WYD 2016 experience.
I ask that you keep them in your prayers.
Fraternally,
Mike Carroll, CM, Provincial